What we need:
This is all about our needs for spare parts.
ANYBODY that has surplus Fairchild C119 Flying Boxcar parts and wants to sell or donate them is asked to get in contact with us, since the Boxcar's always need something or deserve something that's in better shape...
With this stuff, its in a way that if You have the parts, You usually know what they are anyway, so no big time descriptions are given here...
Airframe parts:
Astrodomes ! - We need two of 'em!
Control surfaces
Magnesium Castings; like hinges, brackets etc.
Props & IOC's
Oil cooler shutter mechanisms
Tires
Brakes (You may have DC4 brakes?)
Electric Actuators for :
cowl flaps, carb heat boxes, fuel & oil & Hyd. fluid valves,
APU parts, better whole APU's
reverse current relais
ADI pumps
Oil coolers!
Full flow oil filters!
RADIAL ENGINE PARTS:
We have Interest in ALL Curtis-Wright R3350 parts and accessorys!
Carburetors, PRT's, Mags, DISTRIBUTORS!
Instruments:
Torque meters
Fuel flow meters
Altimeter
Fuel level indicator amplifiers (tube stuff variety!)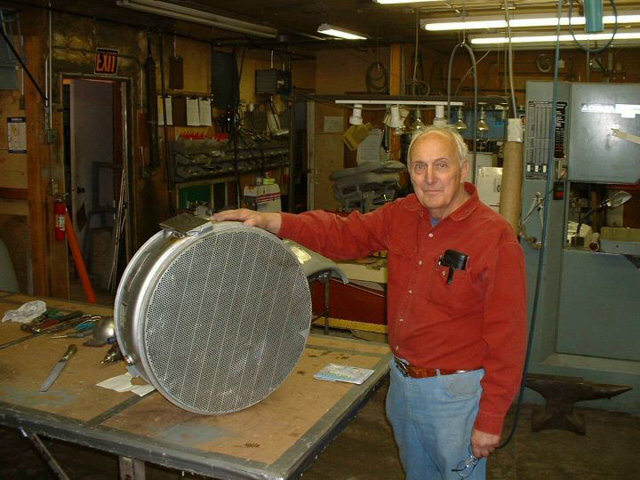 Two of our OILCOOLERS had damage and leaked. We got 'em to F. Atlee Dodge (Sir 'is pictured above), where his crew welded them up, in no time, at a very nice price. Workmanship is so superb, You have to see it! For any kind of welding or part production problem, may it seem unsolveable, contact his company! Our very serious special thanks to
F. Atlee Dodge Aircraft Services
P.O. Box 190409 Anchorage, AK 99519-0409
Phone: (907) 344-1755 Fax: 344-6720
Email: atleedodge@gci.net Homepage: http://www.fadodge.com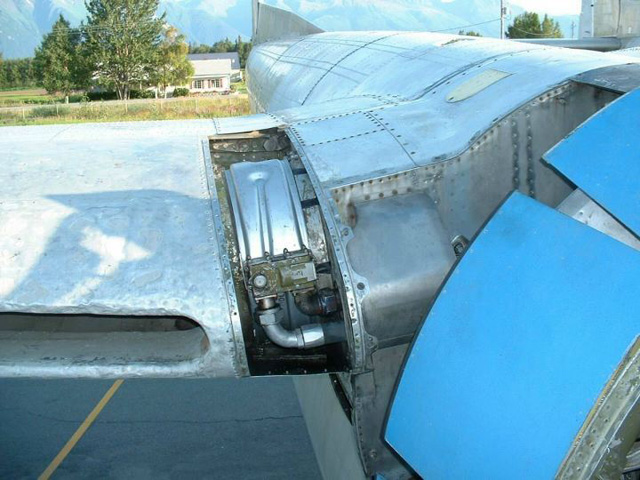 The very nicely repaired Oilcooler installed in right wing of N8501W Boxcar, prior to the reattachment of the sheet metal fairings in summer 2003. Note the old dents from flying through heavy hail, on the very soft skin around the air intake for the oil cooler, on the left. This skin is a easy-er weldable alloy, but quite butter soft.